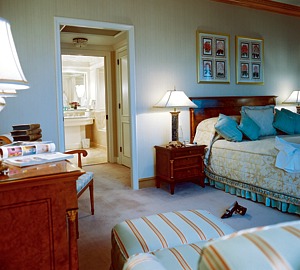 Because of the diversity of hotels a rating system, based on stars, was created. However, rating systems don't all carry the same definitions. For instance, the American Automobile Association (AAA) in the United States regularly reviews and rates facilities with a scale based on one star to five stars. The ratings reflect specific written standards set forth by AAA. Travelers who are familiar with this system will know what to expect when booking a reservation at a hotel rated on this scale.
But in Europe or Latin America, ratings systems (if they exist) are widely scattered and unorganized. The same applied to most online travel booking sites that apply their own "star" system, which is not related to AAA.
If the facility is unfamiliar, rather than rely on a ratings system that could be unfounded, look to online review sites for help or ask friends or business associates for recommendations.
From their humble beginnings in spare rooms of private homes to the most plush, opulent and service-oriented facilities available, hotels have evolve into temporary housing for people of all classes who travel. With such a diverse selection, finding a hotel that caters to your needs, on your level can be the defining point in a holiday or business trip.